During the 1930's the Society rented rooms and storage at 36 George St, Manchester, the home to Manchester Literary and Philosophical Society, locally known Man Lit and Phil.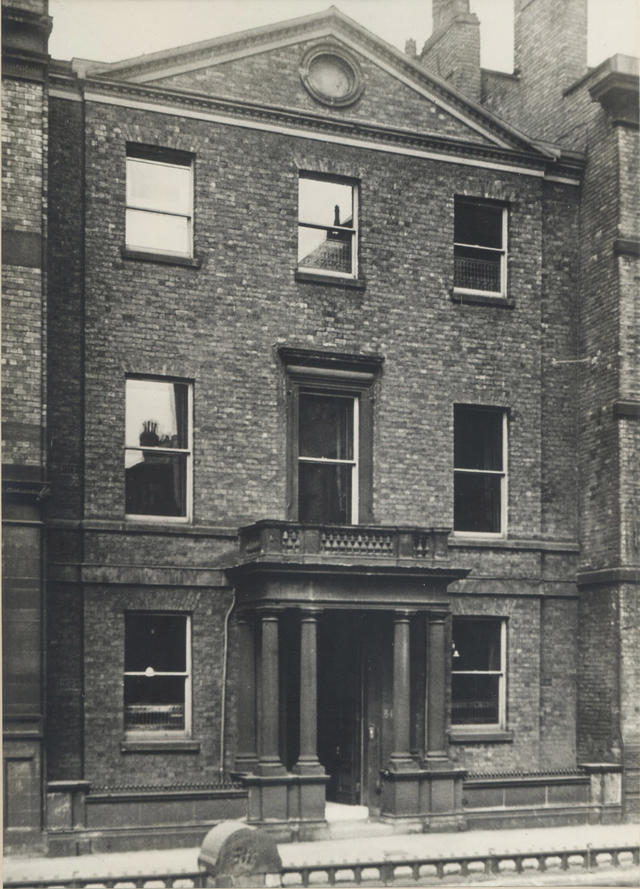 These rooms were used for meetings, lectures, and to store our collection of books, microslides, lantern slides, microscopes and apparatus.
Discussion had been held in early December 1940, about the Insurance Policy for the Society's collection; and it was found that Mr Crawford [a past President of the Society] was holding the document ... the Premium was then paid in full, covering items valued around £600/0/0.
In October, Miss Harthan had volunteered to list and index the collection of Micro- Slides, she had now completed her cataloguing of slides, which were contained in two cabinets.
Mr Openshaw agreed to do the same for the book collection, with Mr Barker to assist him.
Mr Hayward the Curator of Lantern slides and apparatus also agreed to start a catalogue of items.
The librarian also commented that space was at a premium, and that the Society held a large collection of old Transactions ( Newsletters): The Committee agreed to keep a dozen of each issue; and to offer the remainder for disposal along, with several books of which there were multiple copies, to the members.
A member Mr G Jones offered a case of Indian butterflies, that he had found whilst clearing out his home; they were gratefully accepted.
Everything changed on the nights of 22nd & 23rd December 1940, the Manchester Blitz.
The buildings on George Street were destroyed; the Society lost its items, but the Man Lit & Phil lost a huge amount of historical items....see link below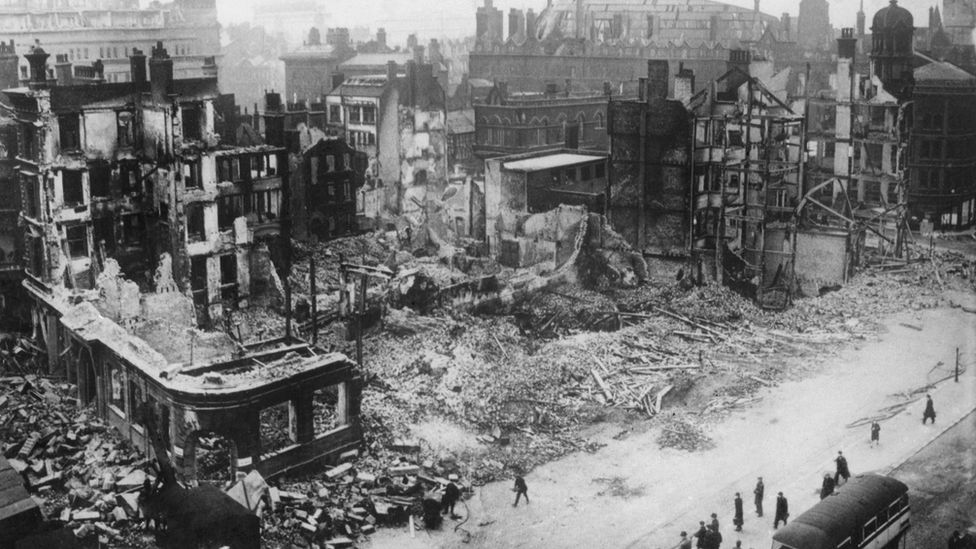 A special Council meeting was held on 14th January 1941, at the Flatters & Garnett Laboratory, to discuss the destruction of the Society's property due to Enemy Action.
The various curators and members of the Council started to compile a list for the General Fire & Life Assurance Corporation, to whom they had just paid one Guinea premium the previous month.
A notice was sent out to members requesting equipment, books, and slides.
The ever generous Mr Winterbottom agreed to donate books, slides, turntable, various oddments required for mounting, and a Swift Microscope.
A donation Fund was started, and a new venue for meetings, lectures etc was 29 Birch Hall Lane, Manchester, the home of Manchester Geography Society.
A member, Mr Abel P Bradshaw F.R.M.S. who had been a member for almost 50 years, offered his large collection but suggested that they stay with him for the duration.
A letter was sent to Flatters & Garnett, to supply asap a Micro-projector as this was thought to be the most important piece of apparatus lost .
The paperwork for the Insurance claim proved to be complicated so
Mr Winterbottom agreed to organise it all for the Council.
The Board of Trade Insurance & Companies Department made detailed enquires regarding apparatus destroyed, requesting valuations of equipment.
There was good news, Miss Harthan had been cataloguing the micro-slides so only 630 slides were lost and 2180 were saved.
The Lantern slides did not fare so well; of the 600 slides, many of them early Victorian, only 60 survived, these had been on loan to members.
All the books, pamphlets and assorted paperwork was lost, along with Microscope Equipment, Cabinets and Bookcases.
Letters between the Council, Board of Trade, and the Insurance Agent
Brocklehurst & Sons, continued until August 1942, when the Board of Trade decided to settle on the amount of £462/10/0 as the full and final claim for War Damage.
A Deferment Notice was then issued, saying that the Society would not receive any amount of money until after the end of the War.
After much discussion a letter was received from the Board of Trade about the purchase of replacement equipment ... the Board was seeking firm dates and costs for the apparatus but, although the Society desired the replacements, it was hard if not impossible at that time, to actually buy the goods; so the Council decided to place orders with Flatters & Garnett to replace asap, most of the items on the list.
Further problems occurred with storage of these items, great difficulty was had in buying cabinets, bookcases etc as these were strictly rationed
Finally, in July 1946 orders were placed with F&G for the following items:

Micro-Projector. Estimate of £40.
Bench Microtome Est. of £4.
Mounting Cabinet with Turntable. Est. £8
Heating Device for mounting
A simple dissecting Microscope as in F&G B 685, Est. £10
Field Microscope Est. £10
A Greenough Type Binocular Microscope, Est. £28, this item required a Licence to purchase it.
Student Model Microscopes, 4 Stands with Optical Equipment, with Graduating Revolving Table and Polariser, Lamps and Filters Est. £120
Lantern Slide Projector Est. £20.
In all, the order from Flatters & Garnett had an estimated cost of around £250 but the Society had further requirements of Cabinets, Bookcases etc.
It was decided to spend around £70 on acquiring books, and copies of Transactions of other Societies.

Due to the difficulty in getting new equipment as regard to Licences and detailed form-filling for the Board of Trade; it was decided to purchase used equipment from members if suitable:
A Crouch Microscope, with fitted addition &apparatus was bought £28/0/0

a Bench Microtome for £2/10/0

A "Precision" Microscope £30/0/0

A Watson Service Microscope for £35/0/0

The Librarian then spent £15/0/0 on books
a total of £110/10/0 ( £4600 in today's money according to ONS data )
F&G had a Secondhand Greenough Low power Beck Microscope for sale, and it was agreed to purchase this for £42/4/6d but; as the committee had already spent the first allocation of money, a further request was made to Board of Trade for a further release from the balance due to the Society: Several letters were sent between the parties and several months passed by, and its was not until the end of 1947 that the accounts were finally settled with the Board of Trade officials.
The balance of money was kept in the Bank, to be spent on books, when available: Problems of acquiring new books were mentioned, as to the restriction due to paper shortages, but members continued to donate books and money.

As still happens today; upon the death of members, their families contact us and donate items, either for us to keep or to sell on their behalf or for charities.

Footnotes:

Thanks to www.manlitphil.ac.uk for the images of 36 George Street.
https://www.iwm.org.uk/history/the-manchester-blitz

The Office of National Statistics note that £600 in 1940 is equal to £33,809. in today's money.